In 2004, DC revived the Firestorm comic for the second time, with writer Dan Jolley and artist Chris Cross, but instead of the original Firestorm, Ronnie Raymond, there was a new protagonist; Jason Rusch, a teenager.
Jason was a seventeen-year-old living in Detroit, who wanted nothing more than to escape his home city. He lived with his father, who had turned abusive after he lost his hand in an industrial accident. His mother left his father sometime after the accident, leaving the young Jason with his father. With the loss of a job he needed to fund college, Jason turned to a local thug for money, accepting a job as a courier. It was on that job that he encountered the Firestorm matrix, searching for a new host after Raymond's death. In the aftermath, Jason struggled to cope with his new identity and powers - a struggle that led to the death of the man who'd hired him.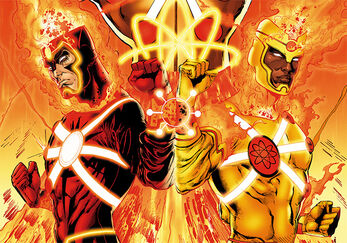 Eventually, Jason managed to develop a degree of control over his powers. Ronnie Raymond eventually returned within the Firestorm matrix in Firestorm #9, remaining with Jason as part of Firestorm until he appeared to dissipate in Firestorm #13.
Shortly after Jason's eighteenth birthday, a few weeks after Raymond's dissipation, Jason was kidnapped by the new Secret Society of Super Villains for use as a power source in a hidden complex. Freed when the new Secret Six launched a raid on the complex, Jason discovered two important things: he had a fellow prisoner (a mysterious girl namedGehenna), and his imprisonment by the Society had significantly depowered him (Firestorm #17).
Together, Jason and Gehenna escaped the complex. Gehenna disappeared in the aftermath, but telepathically promised Firestorm that she'd see him again. In Firestorm #19, Donna Troy recruited Firestorm - this time comprising Jason and his best friend Mick Wong - for her outer space team to fight the oncoming instability from Infinite Crisis.
Community content is available under
CC-BY-SA
unless otherwise noted.